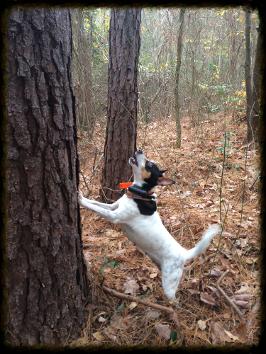 Shadowtail's River Queen is our Baldwin/Grayson bred Mountain Feist female. River Queen is one heck of a squirrel dog and she is the foundation of our kennel. She is the standard we hold our squirrel dogs to and she is what I want in a squirrel dog in every category. River Queen is a proven producer of squirrel dogs.
River Queen treed her first squirrel at just over 4 months old and she has been hard at it ever since. River Queen hunts with her nose, eyes, & ears (in that order) and she uses them well. River Queen is a very intelligent dog who knows countless commands, many of which, (like retrieving) compliment her hunting ability.
River Queen typically hunts in a wide, corkscrew or circle pattern and rarely hunts outside of 200 yards. She has a great winding nose and is not the type of dog to pass up on layed up squirrels.
Shadowtail's River Queen earned her NKC Squirrel Champion title on February 7th, 2015.
SQCH Shadowtail's River Queen
D.O.B. 4-21-2011
Height - 16in
Weight - 21lbs